Dual Clutch Transmission?
Posted 30 December 2005 - 08:47 PM
---

Advertisement
Posted 31 December 2005 - 10:42 AM
What a Dual Clutch transmission is From Autozine.
http://www.autozine....gear_manual.htm
Twin-Clutch Gearbox
Twin-clutch gearbox is undoubtedly a revolutionary technology for manual transmission. Its impact to the automotive world is even greater than automated manual gearbox such Ferrari F1 system. Twin-clutch gearbox was first put into production by BorgWarner, which calls it "DualTronic". It was first used in Audi TT 3.2 in the name "DSG" (Direct-Shift Gearbox).
Like automated manual gearbox, BorgWarner's DualTronic can operate as a semi-automatic, where the driver changes gears via buttons, paddles or conventional shifter. There is no clutch pedal, because the clutch is automatic while the gearshift is implemented by electro-hydraulic actuators. For relax driving, there is also a full automatic mode, where computer determines which gear to be selected.

So, what's the difference between it and other automated manual gearbox?

Unlike conventional gearboxes, DualTronic uses 2 clutches - one clutch connects to the odd gears (1st, 3rd and 5th) while another clutch connects to even gears (2nd, 4th and 6th). This enable it to shift far smoother and faster than conventional gearbox.

Why? let us see how a conventional gearbox work first: when a driver wants to change from one gear to another, he presses down the clutch pedal, thus the engine is disconnected from the gearbox. During this period, no power is transmitted to the gearbox, thus the driver can shift gears. When it is done, he engage the clutch again, then power is again transmitted to the gearbox. As you can see, the power delivery change from ON to OFF to ON during gearshift. How smooth the change depends on how skillful the driver cooperate the clutch and throttle. Automated gearbox like Ferrari F1 is similar. The only difference is that the clutch and gearshift are operated by computer via hydraulic actuators. The ON-OFF-ON power delivery still exist. In contrast, an automatic transmission with torque converter does not has this problem.

Twin-clutch gearbox can overcome the ON-OFF-ON problem too, thanks to the twin-clutch design which enable it to "pre-select" the next gear. Take this example: assuming the car is accelerating at 2nd. The clutch controlling the even gears is now engaged while another clutch is disengaged. From the data taken at throttle position and rev counter, the computer knows that the driver will select 3rd soon, thus it will connect the 3rd gear. Because at this moment the clutch for odd gears is disengaged, the pre-selection of 3rd will not affect the 2nd gear currently running. When the driver touches the gear-shift paddle, computer signals the even-gear clutch to disengage and simultaneously the odd-gear clutch to engage. In this way, gear is changed from 2nd to 3rd instantaneously, without any OFF period, without any delay - the only delay is caused by the smooth disengagement and engagement of the two clutches. Therefore power delivery is smooth and uninterrupted.

Pre-selection of gears quicken the shift a lot. Upshift takes just 8ms, 10 times quicker than BMW SMG II which is the fastest automated manual gearbox currently available. Downshift is less impressive, because the gearbox need to wait for the throttle blip to match gearbox speed with engine speed. Change down a gear therefore takes 600ms. Changing down a few gears could be more complicated. The most complicated is from 6th to 2nd (both are controlled by the same clutch while the distance between the two gears is the longest). It needs to change to 5th (controlled by another clutch) temporarily before 2nd is selected. This takes 900ms.

To package 2 clutches in limited space, BorgWarner decided to use multi-plate clutches which are far smaller in diameter than conventional clutches. Multi-plate clutches also allow finer control of engagement speed versus smoothness. Depending on driving style, computer can easily change the gearshift speed / smoothness setting.
Advantage: Gearshift ultra-smooth, pretty fast.
Disadvantage: More complex construction, can it handle a lot of torque?
Who use it ? Audi TT 3.2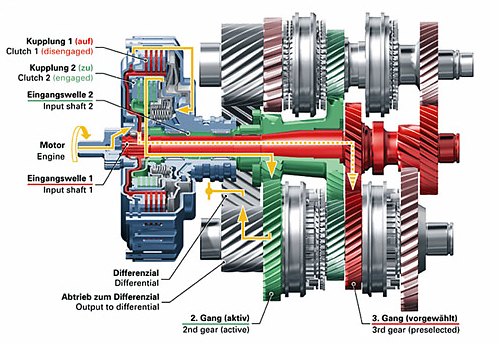 ---
Posted 31 December 2005 - 10:44 AM
Getrag will be Building D.C.Trannys for Ford. Will they build G.M.'s? RWD DCT's at Getrags N.C. plant would be cool. Maybe Transverse DCT's at Magna powertrains N.Y. plant !

Edited by Ghost Dog, 31 December 2005 - 11:39 AM.
---
Posted 31 December 2005 - 12:17 PM
Getrag and Ford have a JV for manual transmissions (
Getrag Ford Transmissions GmbH
), including the Powershift dual-clutch transmission, so it's doubtful GM would use them.
---
Posted 31 December 2005 - 12:52 PM
Getrag and Ford have a JV for manual transmissions (Getrag Ford Transmissions GmbH), including the Powershift dual-clutch transmission, so it's doubtful GM would use them.

Reading what I have about the technology. It would be expensive to convert an AT plant to DCT. Since they have to be built in the U.S. The Getrag North Carolina plant that supplies MT for the Sigma's seem a logical choice. The Magna powertrain (formerly NVG) Plants would also be good choices. Maybe a DCX-GM- Magna joint DCT effort. For Front and Rear wheel drive. Is'nt a NVG tranny being modified for the 2 mode hybrid program?
I don't think GM powertrain has any U.S. MT plants? And Importing is Right out. (F40 be damned)
---
Posted 31 December 2005 - 05:15 PM
GM does have a North American manual transmission plant—
Manual Transmissions of Muncie
(MTM), the other part of the former New Venture Gear joint venture that GM regained when NVG was split up again. Although they now primarily make transmissions for trucks (Dodge mostly), some of you may remember when "Muncie" transmissions were more widely known. If you read through GM's material on the DCT you'll see that prototypes were being tested in GMT 800s, so MTM is a possibility if GM actually proceeds. Dave Hill was cautiously interested in the DCT for the Corvette.
Edited by thegriffon, 31 December 2005 - 05:18 PM.
---
Posted 31 December 2005 - 07:35 PM
MTM transmissions still use NVG model numbers and are described in GM spec sheets as "New Venture Gear". The NV3500 and NV4500 are used in the Sierra/Silverado. The NV5600 I believe is used by Dodge in the Ram.

---
Posted 01 January 2006 - 08:34 AM
The packaging potential of DCT seems fantastic. It could be packaged as a straight Automatic. People would never know they were driving an Automated Manual. It could be packaged as a manual. You could even put a dummy clutch pedal on the floor. As an SMG . It's a really good way to move the 4 speed autos and 5 speed manuals into even lower volume. (as long as the DCT's are U.S. built)

---
---
---
Reply to this topic
0 user(s) are reading this topic
0 members, 0 guests, 0 anonymous users