FIRST GLIMPSE: 2010 Buick LaCrosse Interior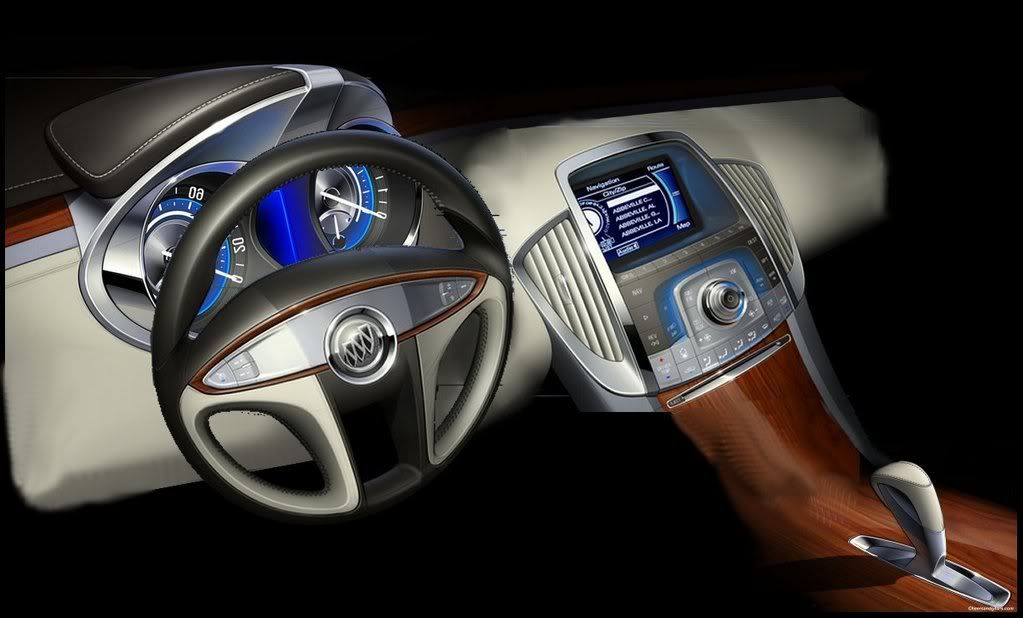 Photoshop courtesy of Ted Krygier
General Motors has released these four renderings of a future vehicle labeled
'GMX-353'
, which is the internal designation for the next-generation Buick LaCrosse. Based on the forthcoming
Epsilon II mid/large FWD platform
, the next LaCrosse is intended on taking the current midsize Buick to the next level in terms of luxury and refinement. If these conceptualizations are even partially telling of the production sedan, then that goal will be readily achieved.
The first rendering of the gauge binnicle (above) shows an advanced design with heavy use of metallic textures. A
stitched leather dashboard and binnicle upper
is apparent. The current Buick theme of moving towards soft, blue hues and ambient lighting is evidenced within the gauges themselves as well as the center-mounted driver's information center.
The leather-wrapped gear selector pictured above emphasizes luxury over sportiness by forgoing a seperate selector gate in favor of a clean linear design. Shifting of the 2010 LaCrosse's
6-speed transmission
will likely be handled by an integrated button on the gear selector (not pictured).
Identified as one of GM's '
NG corporate 4-spokes
,' the above wheel combines multiple materials and colors to create a unique and well-appointed look. In a reverse of tradition,
woodtones trim dominant metallic elements
on the horizontal spoke with neatly-integrated cruise control and redundant audio controls . The overall design itself combines the sporty ambiance of a three-spoke with the ease and class of a four-spoke.
The last and most intriguing rendering is of the NG LaX's center stack. As stated in previous interviews, the current black-tie radios are but a stepping stone to full integration. This design showcases integration it in one of its best forms. Navigation, radio, and HVAC functions are combined in a
single control unit
with gradiants of gray delineating the fuctions. Ambient lighting peaks through again from behind the principle radio function controls and also through the
scroll wheel
, which serves as the controller for both navigation and radio with different rotaries serving different functions.
Though we are still left to guess as to what the entirety of the LaCrosse will look like, we can spectulate that it will more than hold its own in the competitive premium market given the look and design of these interior elements. Buick has always been known for procuring beautifully-luxurious vehicles with upscale designs inside and out. From the looks of it, the LaCrosse will return Buick to that tradition and follow in the wide footsteps left by the Enclave.
Additional Info:
Buick's LaCrosse (GMX-353) is slated to arrive in winter of 2009 as a 2010 model. It will be the second American car (following the AURA) to use the wider Epsilon II platform. Powertrain selection is unknown but is likely to include a 3.6l direct-injection V6 and use GM's front-wheel drive six-speed automatic transmission. Pricing is likely to increase over the current LaCrosse, but so will power, equipment, and refinement. The 2010 LaCrosse will share much in common with its Chinese market sister.
Downloadable High-Resolution Images

P.S. Check out other future GM interior conceptual imagery (BRX, Lambda MCE, GMT-900 MCE) here:

GM Design Center Conceptual Interior Elements
P.P.S. Thanks to member Derek77 for bringing these to our attention!